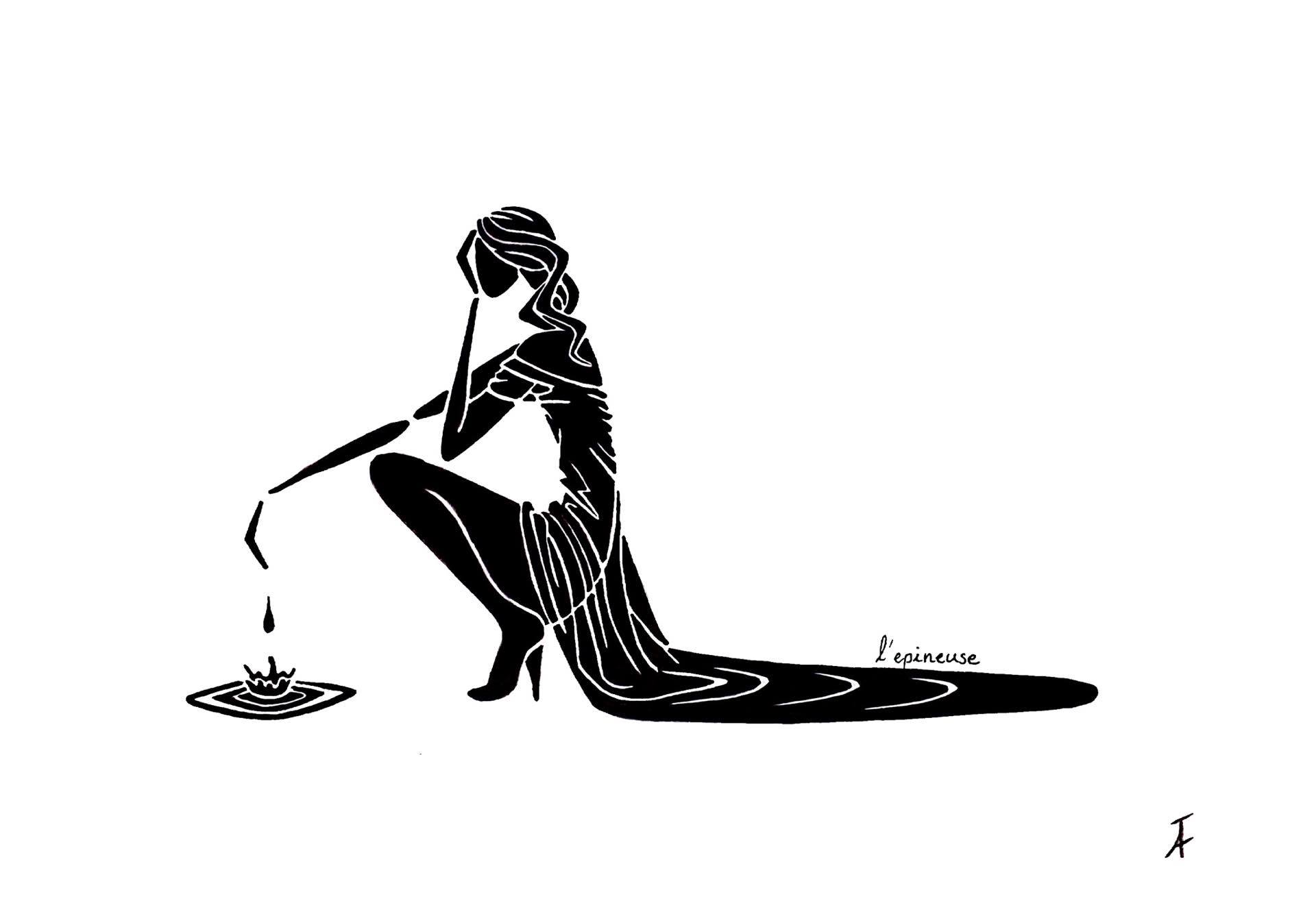 L' EPINEUSE
Je suis l'Epineuse, et vous ne connaitrez de moi, que mon ombre. Cela vous indiquera quand même que je suis une femme, Française, et que je pique (par mes épines) !
Je suis autodidacte et passionnée par les arts manuels, autant pour le dessin, que pour la sculpture, la couture, la mode, etc. J'aime observer le monde et la nature humaine, tout ce que chacun peut ressentir au long de sa vie, ou lors d'un instant.
Après des années de couture, de design, de stylisme, de dessin et de sculpture, j'ai commencé à dessiner avec des marqueurs à alcool, là où j'ai découvert la beauté, le mystère et la profondeur de l'encre noire.
C'est ainsi que j'ai voulu capturer ces émotions, ces sentiments, ces instants de la vie que tout le monde a pu ou pourra vivre, dans des dessins représentant des ombres marquées au feutre noir.
Voici la collection « Les Ombres ».
Si vous voulez me joindre, je serai heureuse de discuter avec vous !
L'EPINEUSE
I am l'Epineuse, and you would only know me as a shadow. This will reveal that I am a woman, French, and that I am thorny! (The English for epineuse.)
I am a self-learner and passionate by manual art, such as the drawing, sculpture, design, couture, sewing, fashion, etc. I like to observe the world and the human being, everything that everybody can live in its life, or during a moment.
After years of sewing, designing, drawing and sculpting, I began drawing with markers, where I found the beauty, the mystery and depth of the black ink.
That is how I wanted to represent emotions, feelings, instants of life that everybody have had or will live a day, with drawings that show black inked shadows.
Here is the "Les Ombres" or "Shadows" collection.
If you want to contact me, it will be a pleasure to meet you!
Contact :

E-mail : lepineuse.atomeart@gmail.com
Liens/links: https://www.facebook.com/lEpineuse/
Instagram : https://www.instagram.com/lepineuse.atomear
Εάν επιθυμείτε να αγοράσετε κάποιο πρωτότυπο έργο,

μπορίτε ν'απευθυνθείτε κατευθείαν στον καλλιτέχνη

If you want to buy the original artwork, you may contact the Artist directly

©

Όλα τα έργα τέχνης που παρουσιάζονται στην

ιστοσελιδα
του
ALESARTE
©
αποτελούν πνευματική ιδιοκτησία των δημιουργών τους και δημοσιεύονται όπως μας αποστέλλονται - με δική τους ευθύνη - ως αυθεντικά έργα των ίδιων των καλλιτεχνών. Τα πνευματικά δικαιώματα των δημιουργών προστατεύονται από την εθνική, κοινοτική και διεθνή νομοθεσία. Κάθε εκτύπωση, αναπαραγωγή και διανομή απαγορεύεται αυστηρά.
© All of the images on this website
ALESARTE
©
are copyrighted original artworks by
the author and are protected by international copy
right law. No materials in this web site may be reproduced, copied, downloaded, or used in any form without permission.
© Les œuvres d'Art présentes sur
ALESARTE
©
sont soumises aux dispositions des différentes législations nationales et internationales sur la protection des droits d'auteurs. Toute reproduction ou utilisation des œuvres de cette galerie est interdite sans autorisation écrite de l'artiste.