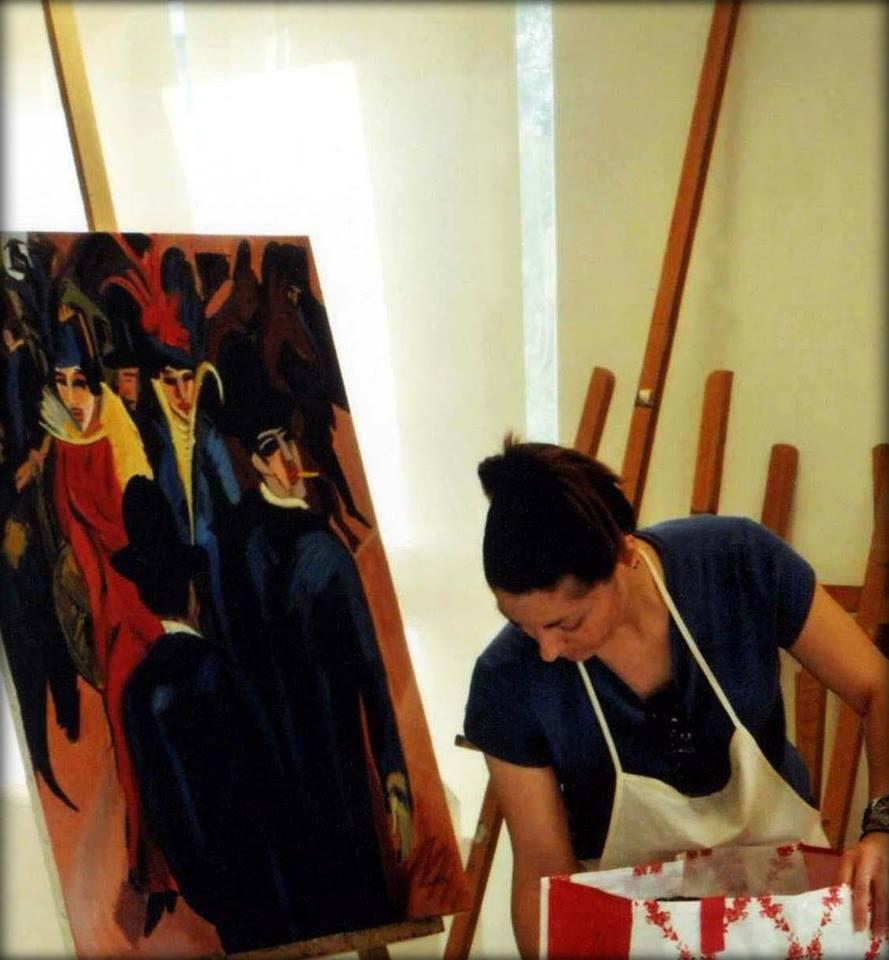 Άντζελα Λοέννιγκ

Γεννήθηκα τo 1977 στην Αθήνα, Ελλάδα.
Έχω σπουδάσει γραφιστική στο WAES στο Λονδίνο, Αγγλία.
Το 1997 έκανα μαθήματα ζωγραφικής με λάδι και μαθήματα γυμνού στο Kensington and Chelsea College στο Λονδίνο, Αγγλία.
Το 2008 έκανα μαθήματα ζωγραφικής στο Πνευματικό Κέντρο της περιοχής μου, με καθηγητή τον γνωστό Έλληνα ζωγράφο Κώστα Σπυριούνη.

Και επίσης, συμμετείχα το 2009, το 2010 και το 2013 σε ομαδικές εκθέσ
εις με πολύ καλές κριτικές για τη δουλειά μου.


Ασχολούμαι από το 1996 με την ζωγραφική και αποκλειστικά με λάδι σε καμβά.



Angela Loennig
I was born in 1977 in Athens, Greece.
I studied graphic design at WAES in London, England.
In 1997 I took oil painting and life drawing lessons in Kensington and Chelsea College in London, England.
In 2008 I took painting lessons at the Cultural Center of my area,by Professor and well known Greek Painter Kostas Spyriounis.


And I also participated in 2009, in 2010 and 2013 in group exhibitions with very good reviews for my work.


I have been involved since 1996 with art and exclusively with oil on canvas.


e-mail επικοινωνίας: artbyangelal@gmail.com

Προσωπικό website: http://angieshobbycrafts.weebly.com/
You may also visit:
http://www.paintingsilove.com/artist/angela41
http://celesteprize.com/angela.loennig
http://angieshobbycrafts.daportfolio.com/
http://www.bluecanvas.com/angelal
http://www.pinterest.com/angelaloennig/
http://instagram.com/artbyangelal
http://www.youtube.com/watch?v=JGgbO3DoLDA
http://www.youtube.com/watch?v=KC16wx9yYfI
© Όλα τα έργα τέχνης που παρουσιάζονται στην ιστοσελίδα του ALESARTE © αποτελούν πνευματική ιδιοκτησία των δημιουργών τους και δημοσιεύονται όπως μας αποστέλλονται - με δική τους ευθύνη - ως αυθεντικά έργα των ίδιων των καλλιτεχνών. Τα πνευματικά δικαιώματα των δημιουργών προστατεύονται από την εθνική, κοινοτική και διεθνή νομοθεσία. Κάθε εκτύπωση, αναπαραγωγή και διανομή απαγορεύεται αυστηρά.
© All of the images on this website ALESARTE © are copyrighted original artworks by the author and are protected by international copy right law. No materials in this web site may be reproduced, copied, downloaded, or used in any form without permission.

©
Les œuvres d'Art présentes sur
ALESARTE
©
sont soumises aux dispositions des différentes législations nationales et internationales sur la protection des droits d'auteurs. Toute reproduction ou utilisation des œuvres de cette galerie est interdite sans autorisation écrite de l'artiste.