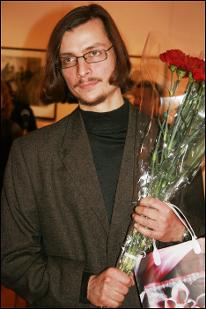 DENIS MACIEVSKIY
est né à Moscou en 1977.
Il est diplômé de l'Université d'Art et de l'Industrie Stroganoff en 2000. Diplôme parfaitement complimenté.
Membre de l'Union des Artistes de Moscou (depuis 2000)..
Prendre part a les expositions collectives à Moscou, Saint-Pétersbourg, Kharkov, Londres, Berlin, Paris, New York.
Exposition personnelle "De la spirale de l'espace» a eu lieu à la galerie "Khodynka" en 2005.
Exposition personnelle "L'espace" a eu lieu au Musée de Maïakovski en 2005.
Personal "Space Time" exposition a eu lieu dans les salles du Musée d'Etat de l'AS Pouchkine en 2008.
Engagé dans la peinture et la gravure. Ses travaux portent sur les questions philosophiques, l'histoire, la littérature, la diplomatie, les relations culturelles internationales.
Denis Maciejewski sanctionnées par des diplômes et des prix du gouvernement de Moscou, l'Union des artistes de l'Académie russe des Beaux Arts.
Deux fois lauréat du premier prix dans les foires et les concours organisés par la Fondation des arts de l'aide russe et tenue à Londres. .
Ses œuvres font partie de la collection du Musée de l'histoire de la Russie contemporaine, le Musée d'Histoire de Moscou, le Musée d'Etat de l'AS Pouchkine, dans des collections privées en Russie, Royaume-Uni, Etats-Unis, en Italie.
Participant de l'exposition «Looking Through Time" (avec E. Macievsky au Musée d'art de.House Masters 2009 à Lipetsk
Écrit des articles pour la revue "Arts Council"
1) " Technologie d'eau forte» № 5 (27) 2002
2) «Organisation de la surface picturale » № 2 (36) 2004
3) «Création d'une copie libere» № 6 (40) 2004
4) «Création d'un espace sur la surface» № 6 (46) 2005
5) «L'espace et la reconnaissance» № 6 (52) 2006
6) "dispose de techniques mixtes dans le calendrier» № 6 (58) 2007
7) «La création de la série et la possibilité de variations» № 1 (71) 2010
8) Dynamique et autre «vide» et des pièces saturées de travail »№ 5-6 (86) 2012
Les articles
décrit le travail d'un artiste sur la tâche créative mondiale
Il a reçu la médaille de l'Union des Artistes de Moscou, "Pour ses contributions au développement de l'art" 2009
En Mars 2011, présente son travail (en collaboration avec E. Macievsky.) à la "Galerie du temps" à Moscou galerie "Vincent".
Exposition personnelle " Suite de Byzance" est une galerie d'art spirituel au Centre Culturel à l'église Saint-Nicolas a Kotelniki en Avril 2011
Denis Macievsky produit de la collection du Musée d'Histoire de Moscou démontré en Février 2012 lors de l'exposition "Moscou Palette" dans la salle d'exposition centrale "Manège"
Oeuvres Denis Macievsky.démontré en Avril-mai 2012 au "moment inoubliable" (à la date anniversaire de 1812) en Exposition Centrale Hall "Manège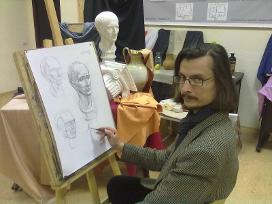 DENIS MACIEVSKIY was born in Moscow.
He is a graduate of Arts School, a member of Russian Designers Union. He gives lectures.
Denis Matsievskiy's painting and graphic works have been exhibited at more than forty exhibitions in Moscow, Saint-Petersburg, Lipezk, Kharkov, London, Berlin, Paris, New-York.
His personal exhibitions took place in the Information Center of U.N.O., Museum of the History of Moscow, Museum of Modern Russian Arts in Jersey-City (Great New-York).
Denis Matsievskiy is awarded by premiums and diplomas of the Ministry of Culture of Russia, of the Government of Russian, of Moscow Artists Union.

The works of this artist are in collections of the Puskin's Museum, at the graphic cabinet of the State Museum of Fine Arts named A. Pushkin ,Museum of Modern History of Russia, Museum of the History of Moscow, Museum of Ex-Libris, in private collections in Russia, Great-Britain, Greece, the USA, Italy.
Contact: macievsky@rambler.ru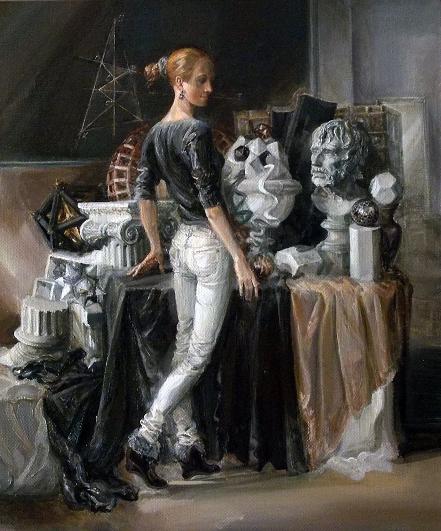 © Όλα τα έργα τέχνης που παρουσιάζονται στην ιστοσελίδα του ALESARTE © αποτελούν πνευματική ιδιοκτησία των δημιουργών τους και δημοσιεύονται όπως μας αποστέλλονται - με δική τους ευθύνη - ως αυθεντικά έργα των ίδιων των καλλιτεχνών. Τα πνευματικά δικαιώματα των δημιουργών προστατεύονται από την εθνική, κοινοτική και διεθνή νομοθεσία. Κάθε εκτύπωση, αναπαραγωγή και διανομή απαγορεύεται αυστηρά.
© All of the images on this website ALESARTE © are copyrighted original artworks by the author and are protected by international copy right law. No materials in this web site may be reproduced, copied, downloaded, or used in any form without permission.
© Les œuvres d'Art présentes sur ALESARTE © sont soumises aux dispositions des différentes législations nationales et internationales sur la protection des droits d'auteurs. Toute reproduction ou utilisation des œuvres de cette galerie est interdite sans autorisation écrite de l'artiste.
Εάν επιθυμείτε να αγοράσετε το πρωτότυπο, απευθυνθείτε κατευθείαν στους καλλιτέχνες

If you want to buy the original, contact the artist directly